These Whimsical Insects melt and pour soap bars make a cute addition to any bathroom and are perfect as guest soap when friends and family come to stay.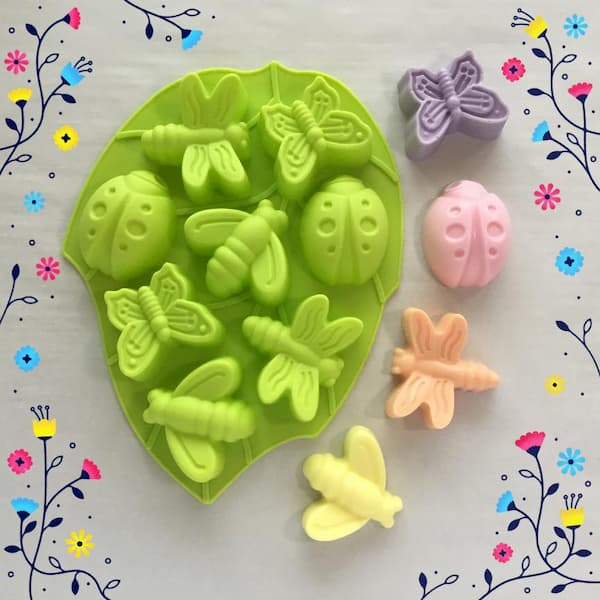 How to Make Whimsical Insects Melt and Pour Soap Bars
What You Need
330g Melt and Pour Soap Base (+ 5-10% for wastage)
Soap Colouring
Soap Fragrance or Essential Oils
Rubbing Alcohol or Vodka in a Spray Bottle
Mouldtastic Insect Leaf Silicone Mould

Method
Weigh out your soap base and cut it up into small cubes. 330g is enough to fill all eight mould cavities.
If you want to colour or scent each cavity separately, here are the required soap base weights:
Butterfly – 42g
Dragonfly – 40g
Bee – 35g
Lady Beetle – 48g
Melt your soap base as per the instructions. Add the soap colour and soap scent if applicable and mix well.
Carefully pour your soap base into each cavity. Bringing the pouring spout down to touch the edge of the cavity so the soap runs down the wall of the cavity and slowly fills it will limit air bubbles in your soap.
Spray the surface of the soap with alcohol to get rid of surface bubbles.
Let the soap set for 24hrs and then peel back the silicone mould to release the soap.